Mama's Mission welcomes you to the  Mama's Dog Training Challenge!

Have a new puppy in the house and think housebreaking is impossible? Think your old dog can't learn to eliminate where yo want him to? Well, we challenge you to think differently! Take the challenge and win in more ways than one. Read on to learn more about the giveaway.
What is it? A group event in which housebreaking issues are eliminated once and for all! (Now that the kids are back in school but it's not holiday season yet, it's the perfect time!)
Puppies:

All need house training!

Older dogs:

Many still have accidents, whether frequent, occasional, excitement wetting, etc!

Already housebroken dogs:

Teach your pet to use a designated area instead of your entire yard!
What do I have to do?
How do I win?
Everyone wins by no longer having to deal with accidents in your house or poop all over your yard!
One person at random wins the $20 Petsmart card… however, you can earn extra entries the more you participate!
Yeah, yeah… clearly the author is selling books. How much is this gonna cost me?
Yes, Lori Verni-Fogarsi is the author of this book and hopes you'll buy one and participate. But honestly, this is not some sort of huge money-making venture for her! (Let's face it… if she were looking to get rich, there are better ways!) I know Lori is a genuine person who truly cares about dogs and their owners!
The book will be only $2.99 during this entire event! (Kindle version, which you can read on any computer or smart phone as well as Kindle, iPad, etc.) If you prefer paperback, it normally retails for $14.99 but Amazon often offers it for less. (For example, now it's $12.92 with free shipping.)
Okay, sounds good. How do I sign up?
Get your copy of "Everything You Need to Know About House Training Puppies & Adult Dogs" from Amazon.
Enter your information into the entry form below to confirm that you have the book & are participating.
Start reading & following the methods!
Return to Lori's site regularly to participate in the discussion, ask questions, &/or get extra entries in the entry form! (Additional entries will become open to you once you've done Step 2.) Bookmark this page so it's easy to find!
How do I know if my dog's issues will be covered?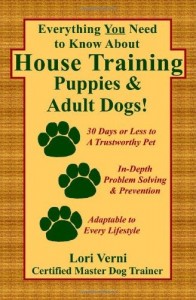 The book covers LITERALLY every housebreaking issue you could possibly think of! Including, but not limited to:
General confusion about where to "go."
Leg lifting/territorial marking.
Occasional accidents in a certain room.
Won't go out in the rain (or other weather issues).
Excitement or fear-related wetting.
Accidents in the crate.
Won't go in front of you outside.
Accidents after moving to a different home.
Accidents when visiting.
Special section for rescue dogs.
Teaching your already housebroken pet/s to use a designated area instead of your entire yard.
And more!
Ready? Let's go!
Giveaway Details
One person will be randomly selected to receive a $20 PetSmart Gift Card. The Dog Training Challenge Giveaway will run from Sept 10th through Oct 10th. All entrants must be at least 18 years of age or older. This giveaway is open to everyone WorldWide! Void where prohibited by law. The odds of winning are based on the number of entries received. All entries are optional; however, the more tasks you complete the greater your chances of winning. Confirmed Winner(s) (by Random.org) will be contacted by email. You must use the Rafflecopter below and follow the steps below to enter. Good Luck!
START HERE: (Step 1): Get your copy of "Everything You Need to Know About House Training Puppies & Adult Dogs."
STEP 2: Use the rafflecopter below to confirm that you have the book & are participating. Do some extra entries now if you'd like.
STEP 3: Read the book & follow the methods! (It's a short, easy, read!) STEP 4: Visit the main event page regularly to ask questions, participate in the discussion (in comments, below), let us know how your dog is doing, gain additional entries, etc. Congratulations on taking the first step toward enjoying your pet, home, and yard more! I encourage you to take some time to visit these fabulous blogs who are all helping support this amazing event! Just click their titles to visit!

Disclosure: Mama's Mission was not compensated for this post, and is not responsible for the prize fulfillment. The sponsor of this event will be responsible for fulfillment of prize (Lori The Author). Please allow 4-6 weeks for the delivery of the prize. This event is in no way associated with, sponsored, administered, or endorsed by Facebook, Twitter, Google, Pinterest or any other social media network. The disclosure is done in accordance with the Federal Trade Commission 10 CFR, Part 255 Guides Concerning the use of Endorsements and Testimonials in Advertising.